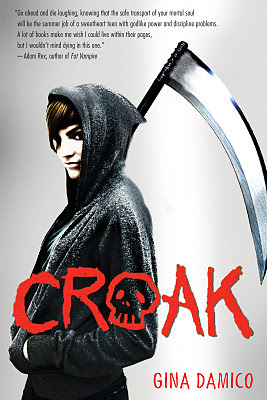 Title: Croak

Series: Croak #1

Author: Gina Damico

Publication date: March 20, 2012

Published by: Houghton Mifflin Harcourt

Source: the publishers via NetGalley (thanks to both!), then I bought my own paperback copy ;)

Add it to your Goodreads shelf

Buy it: Amazon | Book Depository

Synopsis:



Sixteen-year-old Lex Bartleby has sucker-punched her last classmate. Fed up with her punkish, wild behavior, her parents ship her off to upstate New York to live with her Uncle Mort for the summer, hoping that a few months of dirty farm work will whip her back into shape. But Uncle Mort's true occupation is much dirtier than that of shoveling manure.





He's a Grim Reaper. And he's going to teach her the family business.





Lex quickly assimilates into the peculiar world of Croak, a town populated entirely by reapers who deliver souls from this life to the next. Along with her infuriating yet intriguing partner Driggs and a rockstar crew of fellow Grim apprentices, Lex is soon zapping her Targets like a natural born Killer.



Yet her innate ability morphs into an unchecked desire for justice—or is it vengeance?—whenever she's forced to Kill a murder victim, craving to stop the attackers before they can strike again. So when people start to die—that is, people who aren't supposed to be dying, people who have committed grievous crimes against the innocent—Lex's curiosity is piqued. Her obsession grows as the bodies pile up, and a troubling question begins to swirl through her mind: if she succeeds in tracking down the murderer, will she stop the carnage—or will she ditch Croak and join in?
My rating:
★★★★★
Lex's parents are tired of her rebellious attitude, which is why they decided to send her to her Uncle Mort's farm during the summer. Lex, of course, doesn't want to go. She rarely hears from her uncle...and seriously, a
farm
?! Lex can do nothing except listen to her parents and go spend the summer with her uncle out in the country. Her parents for some reason think that feeding cows and cleaning stables will somehow improve her attitude. But once she arrives in the little town of Croak, Lex realizes that her uncle Mort, has other plans in mind for her.
It turns out that Croak is totally not a country town with farms and farmers. Croak is actually a town inhabited by reapers...yes, THE grim reapers! Mort teaches Lex what a reaper is all about, and she gets that hang of it pretty darn quick. Not long after, Lex and her reaper partner start to notice really odd deaths. The Junior reapers decided to investigate whats going on before family and friends get hurt...or even worse, before the killer comes after the reapers next.
I absolutely loved this book! It's definitely a favorite!
The book was very funny (I love a book that can make me laugh!), towards the end it was quite suspenseful, and there was, of course, a lot of mystery!
I loved Lex and Driggs's relationship, too! Every time they were around each other they made me laugh! Especially when they first met. And let me tell you, they met in the most interesting way. It was soooo awkwardly hilarious that I didn't know whether I should have laughed or felt embarrassed for them both! Oh my...I still giggle every time I think about it.
And Driggs's little confession towards the end...well, some people might think its kinda creepy, but I thought it was totally adorable!!
I thought all (or most, actually) the characters were totally likable. Even with their tempers and all, as I said before, I really liked Lex and Driggs. Elysia I loved! She is just so bubbly and happy and talkative and so cute! She also made me giggle from time to time. She is most definitely one of my favorite characters.
I felt like the book had a great story line, and truthfully, there really wasn't anything that I didn't like.
This book isn't out till March and I already want book 2! That's how great it was! Oh, this is going to be a long wait... but totally worth it!
Have you read this book? If so, what did you think about it? If not, what do you think? Does it sound like something you might want to read? Leave me a comment! :)