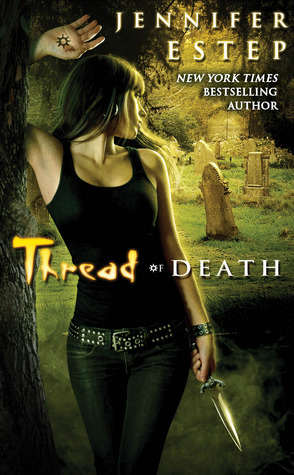 Title: Thread of Death

Series: Elemental Assassin #5.5

Previous books in this series: Spider's Bite (#1) | Web of Lies (#2) | Venom (#3) | Tangled Threads (#4) | Spider's Revenge (#5)

Author: Jennifer Estep

Publication date: January 2012

Published by: Pocket Books

Source: Borrowed from library

Add it to your Goodreads shelf

Buy it: Amazon

Synopsis:

Gin Blanco, aka the assassin the Spider, might have finally killed her nemesis, Mab Monroe, but that doesn't mean that it's smooth sailing. Gin goes to Mab's funeral to say her goodbyes and runs into some of Ashland's most notorious underworld power players, including Jonah McAllister and Phillip Kincaid. McAllister wants her dead, and Kincaid has his own murky motives when it comes to the Spider, and Gin once again finds herself fighting for her life. Only this time, she might wind up in the cemetery right next to Mab.

My rating:
★★★★☆
Thread of Death
takes place just after book five,
Spider's Revenge
, so there will obviously be spoilers for that book.
One thing I liked about this novella is that not only was it in Gin's POV, but it also alternated between different bad guys, Mab's former associates, if you will. It was pretty cool getting these perspectives.