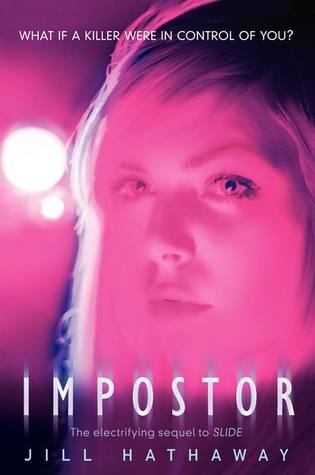 Title: Impostor

Series: Slide #2

Previous book in this series: Slide

Author: Jill Hathaway

Publication date: March 2013

Published by: HarperCollins, Balzer + Bray

Source: For review from the publishers via Netgalley

Add it to your Goodreads shelf

Buy it: Amazon | Book Depository | Book Outlet

Synopsis:



What if a killer took control of you?





Vee Bell's gift (or curse) of "sliding"—slipping into the mind of another person and experiencing life, briefly, through his or her eyes—has been somewhat under control since she unwillingly witnessed the horrific deaths of her classmates six months ago.





But just as things are getting back to normal, Vee has a very bizarre experience: she loses consciousness and finds herself in a deserted area, at the edge of a cliff, with the broken body of the boy who took advantage of her on the rocks below.





As Vee finds herself in stranger and stranger situations with no memory of getting there, she begins to suspect that someone she knows has the ability to slide—and that this "slider" is using Vee to exact revenge on his or her enemies.
My rating:
I read
Slide
a while ago, but I remember loving it and its concept. I mean, it's just such a cool power! That being said, I don't know why it took me so long to read this, but I loved it as well!