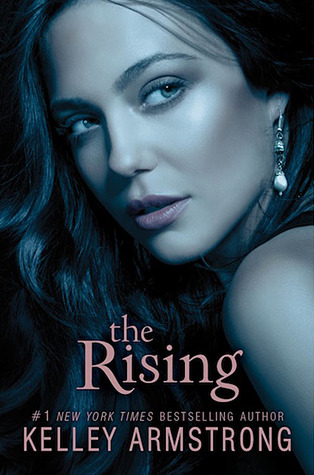 Title: The Rising

Series: Darkness Rising #3

Previous books in this series: The Gathering (#1) | The Calling (#2)

Author: Kelley Armstrong

Publication date: April 2013

Published by: HarperCollins

Source: Borrowed from library

Add it to your Goodreads shelf

Buy it: Amazon | Book Depository

Synopsis:



Things are getting desperate for Maya and her friends. Hunted by the powerful St. Clouds and now a rival Cabal as well, they're quickly running out of places to hide. And with the whole world thinking they died in a helicopter crash, it's not like they can just go to the authorities for help.





All they have is the name and number of someone who might be able to give them a few answers. Answers to why they're so valuable, and why their supernatural powers are getting more and more out of control.





But Maya is unprepared for the truths that await her. And now, like it or not, she'll have to face down some demons from her past if she ever hopes to move on with her life. Because Maya can't keep running forever.



Old secrets are revealed and unexpected characters make a surprising return in this stunning conclusion to Kelley Armstrong's New York Times bestselling Darkness Rising trilogy.
My rating:
★★★★★
This book was just amazing! I always love getting back into a familiar story, and one I really enjoy being in, at that. I've been highly anticipating this one and it did not disappoint! I'm just really sad that it's over :(
The story was just great! There's something about the stories Kelley writes about teenagers with supernatural powers running away from evil people that I just absolutely love! Okay, I know what that something is: Action! And tons of it! In fact,
The Rising
started off with fast paced action the sucked me in and would not let me go until the story was told! I also loved the fact the despite the situation Maya and her friends were in, I swear, I was laughing like every other page! I love books with humor :)
And then the characters... so many diverse characters and we even get to see some new ones! But even though we have SO many characters, it is not overwhelming, and that is nice!
Ash, oh my gods, love! Under all that jerk-like exterior he really is a sweet guy. And then there's Daniel... I ADORE Daniel! I like Rafe okay, but I am totally Team Daniel! He is just the sweetest, and as you may know, I have a soft spot for sweet guys ;) The one character that really ended up surprising me was Antone. I seriously HATED the guy... the evil bastard! But after this book... I don't know what to think. I wont say I like him, but my perspective on him has certainly changed. Oh and don't even get me started on the fact the the
Darkest Powers
crew is BACK!! Eeeep! I was very excited to read this book, specifically for this reason! It was just amazing seeing these old characters we know and love interact with the new characters we've become fond of. I seriously love cross-overs like this :)
I thought the ending was satisfactory and yet unusual. You'd never guess how this will end! And in a way I wasn't a big fan of this final decision. I kept wondering if there wasn't another way, but... I don't know. The ending was just too convenient.
Oh, and did I mention that little dash of Greek mythology? Because HECK YES! I love this series to start with so this was just a plus! I really love this world and I am SO sad that it's over! I will miss it! And if you have not started on this series, GET TO IT! :)
Have you read this book? If so, what did you think about it? If not, what do you think? Does it sound like something you might want to read? Leave me a link to your review or comment below! :)