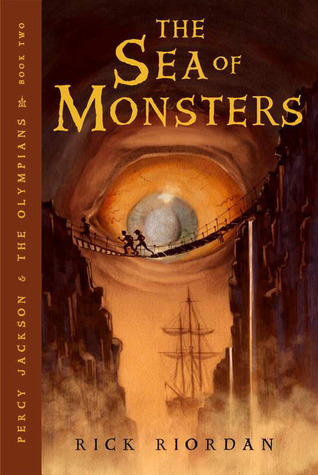 Title: The Sea of Monsters

Series: Percy Jackson and the Olympians #2

Previous book in this series: The Lightning Thief

Author: Rick Riordan

Publication date: April 2006

Published by: Disney Hyperion

Source: Own Paperback

Add it to your Goodreads shelf

Buy it: Amazon | Book Depository

Synopsis:

The heroic son of Poseidon makes an action-packed comeback in the second must-read installment of Rick Riordan's amazing young readers series. Starring Percy Jackson, a "half blood" whose mother is human and whose father is the God of the Sea, Riordan's series combines cliffhanger adventure and Greek mythology lessons that results in true page-turners that get better with each installment. In this episode, The Sea of Monsters, Percy sets out to retrieve the Golden Fleece before his summer camp is destroyed, surpassing the first book's drama and setting the stage for more thrills to come.
My rating:
★★★★★
It all started when Percy Jackson, now 13, had a nightmare about his best friend Grover. He was in trouble and this was something he couldn't shrug off. Then Annabeth met up with him and told him that the magical borders that protected Camp Half-Blood were poisoned.
So here we go again… another dangerous adventure for Percy and his friends. Only this time it is to go save Grover from a Cyclops who want to marry him (ya... weird) and to retrieve the golden fleece, which is virtually the only thing that can save the camp.
Did I mention that Percy finds out that this guy from his school, who was also his friend, turns out to be a Cyclops?
It seems like troubles for Percy aren't over yet.
This is book two of the awesome Greek mythology series full of adventure and bucket loads of humor if you want to laugh for a while.
Have you read this book? If so, what did you think about it? If not, what do you think? Does it sound like something you might want to read? Leave me a comment! :)