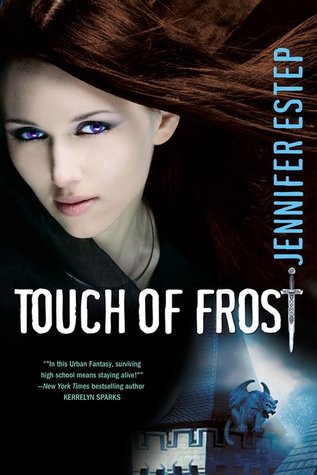 Title: Touch of Frost

Series: Mythos Academy #1

Prequel story: First Frost

Author: Jennifer Estep

Publication date: August 2011

Published by: Kensington, K-Teen

Source: Borrowed from library

Add it to your Goodreads shelf

Buy it: Amazon| Book Depository

Synopsis:



My name is Gwen Frost, and I go to Mythos Academy; a school of myths, magic and warrior whiz kids, where even the lowliest geek knows how to chop off somebody's head with a sword and Logan Quinn, the hottest Spartan guy in school, also happens to be the deadliest. But lately, things have been weird, even for Mythos. First, mean girl Jasmine Ashton was murdered in the Library of Antiquities. Then, someone stole the Bowl of Tears, a magical artifact that can be used to bring about the second Chaos War. You know, death, destruction and lots of other bad, bad things. Freaky stuff like this goes on all the time at Mythos, but I'm determined to find out who killed Jasmine and why; especially since I should have been the one who died...
My rating:
★★★★★
In a world where mythology is real, there is a special school for kids who are descendants of some of the most powerful mythological figures known. That school is Mythos Academy. Here the descendants of gods, goddesses, Romans, Spartans, Amazons, and Valkyrie are trained to fight like experts, for they are destined to fight in what might be the next Chaos War—a war between the Norse god Loki and the Greek goddess Nike.………
Is it just me or did I just sound extremely formal? Or, I don't know, like an announcer out of a movie or something? Seriously, who says "In a world where…"? Well, apparently I do, lol
Anyway
(yeah, I get distracted easily),
Touch of Frost
follows Gwen Frost who is a Gypsy and is a new student at Mythos Academy. She has a power called psychometry which basically means that when she touches something/someone she gets feelings and visions off of that object from the past…it's a pretty cool power if you ask me :) And Gwen uses it at school to make money! Smart! lol
Gwen works at the school library to help pay for her tuition, and one night chaos strikes the place: the Bowl of Tears, a very important (and dangerous if in the wrong hands) artifact, is stolen; Jasmine, a very popular and very mean classmate of Gwen, is murdered in the library; and Gwen herself is attacked. Talk about a bad day. And all that for a lame, old bowl -_- Except it's not all lame. This bowl was used to free the Norse god Loki, and if that happens again there could be another war. So like I said before, if the bowl lands in the wrong hands it could be deadly.
Feeling very suspicious about all this, Gwen decides to solve the mystery of the murder and the stolen bowl. But to do this she'll need the help of the least expected person: one of Jasmine's best friend, Daphne.
I LOVED this book! Anyone who knows me knows that I absolutely love mythology…especially if it's Greek! And let me just say that Nike, the Greek goddess of victory, has a very important role. So yes, I loved this book :)
The story line was great, the mystery and twists…amazing! There was a lot of action, too, which I really like. And Logan…totally swoon-worthy! I really wish Logan wasn't sooo, I don't know, such a jerk. But I like him ;)
I cannot wait for book 2!! In fact, I already requested it at my library…and it's not even out yet! :D
Have you read this book? If so, what did you think about it? If not, what do you think? Does it sound like something you might want to read? Leave me a comment! :)