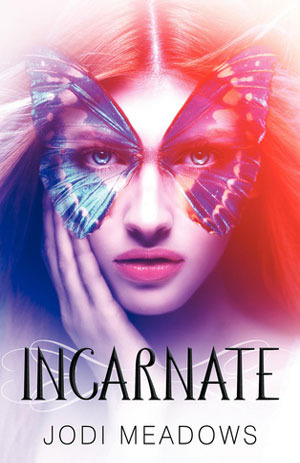 Title: Incarnate

Series: Newsoul #1

Author: Jodi Meadows

Publication date: January 31, 2012

Published by: HarperCollins

Source: the publishers via NetGalley (thanks to both!)

Add it to your Goodreads shelf

Buy it: Amazon| Book Depository

Synopsis:



New soul





Ana is new. For thousands of years in Range, a million souls have been reincarnated over and over, keeping their memories and experiences from previous lifetimes. When Ana was born, another soul vanished, and no one knows why.





No soul





Even Ana's own mother thinks she's a nosoul, an omen of worse things to come, and has kept her away from society. To escape her seclusion and learn whether she'll be reincarnated, Ana travels to the city of Heart, but its citizens are afraid of what her presence means. When dragons and sylph attack the city, is Ana to blame?





Heart





Sam believes Ana's new soul is good and worthwhile. When he stands up for her, their relationship blooms. But can he love someone who may live only once, and will Ana's enemies--human and creature alike--let them be together? Ana needs to uncover the mistake that gave her someone else's life, but will her quest threaten the peace of Heart and destroy the promise of reincarnation for all?
My rating:
★★★★★
In Ana's world, there are a million souls that reincarnate after every death. They've been around for hundreds of years, and each soul retains all their memories from previous lives. I guess you could call them immortal.
Ana is not one of these souls. She does not have any memories of past lives because she is a new soul. Ana doesn't know if she will have any more lives beside this one; no one has ever heard of a new soul…until Ana was born. Ana's parents were expecting Ciana when she was born, but Ciana was never reincarnated. No one knows what happened to Ciana.
Ana's parents shun her because she is different…new. Ana's father even went as far as leaving her and her mother, Lin. Lin on the other hand, made sure to make Ana's life as miserable as possible. But once Ana turns 18, she leaves Lin to go to the city of Heart in search of some answers pertaining to her soul.
This book was pretty wow-mazing. I loved it! So far, it's one of the best books I have read this year! It was very sweet and quite romantic. Ana was very likable and you couldn't help but sympathize with her. People can be sooooo rude! I just wanted to get in the book, give her a big hug and say, "It'll be okay Ana, you'll see." And Sam….gosh, what can I say about that super sweet and gorgeous guys…I LOVED him! He was very kind to Ana, which both Ana and I found surprising. He's a great guy :)
The story itself was very interesting and kept me hooked throughout the whole book. Especially towards the end with the huge twist I did not see coming! I swear, my jaw almost literally hit the floor from the shock! I really liked its originality…I have not read anything like it and that is certainly a plus for me.
As for things I didn't like…well, truthfully, I can't think of anything. The world the author created was amazing! It's definitely a book everyone must read!
And now to wait for book 2, *sigh*
Have you read this book? If so, what did you think about it? If not, what do you think? Does it sound like something you might want to read? Leave me a comment! :)