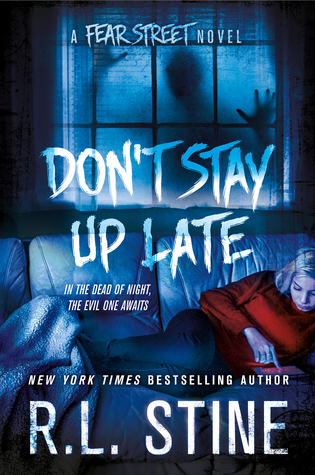 Title: Don't Stay Up Late

Series: Fear Street Relaunch

Previous book in the relaunch: Party Games (#1) (can be read as standalones)

Author: R.L. Stine

Publication date: April 7th 2015

Published by: St. Martin's Griffin

Source: E-ARC from the publishers via Netgalley

Add it to your Goodreads shelf

Buy it: Amazon | Book Depository

Synopsis:



Ever since a car accident killed her father and put Lisa and her mother into the hospital, Lisa can't think straight. She's plagued by nightmares and hallucinations that force her to relive the accident over and over again in vivid detail. When Lisa finds out that a neighbor is looking for a babysitter for her young son, she takes the job immediately, eager to keep busy and shake these disturbing images from her head.




But what promised to be an easy gig turns terrifying when Lisa begins to question exactly who — or what — she is babysitting.
My rating:
★★★☆☆
I
love
Fear Street
! I've been a fan since I was like in middle school, so was super excited to find out R.L. Stine would be adding a couple more books to the series. In fact, I read
Party Games
, the first book in the
Fear Street
relaunch, not too long ago and absolutely loved it! So of course I could not wait to get my hands on this one! Unfortunately, it didn't totally live up to my expectations. Don't get me wrong! I enjoyed it--the action, the Fear Street creepiness... I just love this world! But, overall, it was just kind of... meh =/
The story started off interesting enough, but then it morphed into this book that had a
Goosebumps
feel to it and made me go "wha?"
I kept waiting for things to turn around, you, know, for that awesome plot twist, but it never came! It was so predictable and so very disappointing. R.L. Stine is one of the few authors who can actually surprise me. The whole thing was just more silly than scary.
I mean, overall, I did enjoy the story. I think I'll always love all things
Fear Street
and the mysteries surrounding said street, but this whole thing with this creature... *shakes head* I just don't think it worked for a "YA" novel.
The Fear Street connection:
Lisa's babysitting job? Yep, it's on Fear Street.
Have you read this book? If so, what did you think about it? If not, what do you think? Does it sound like something you might want to read? Leave me a link to your review or comment below! :)