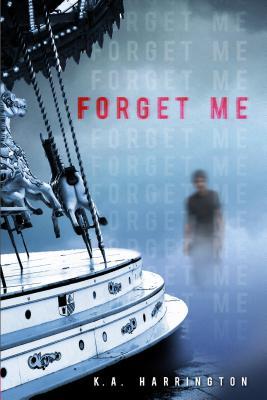 Title: Forget Me

Author: Kim Harrington (as K.A. Harrington)

Publication date: August 2014

Published by: Putnam Juvenile

Source: Library book

Add it to your Goodreads shelf

Buy it: Amazon | Book Depository

Synopsis:



On the three-month anniversary of her boyfriend Flynn's death, Morgan uploads her only photo of him to FriendShare to get some closure—but she's shocked when the facial recognition software suggests she tag him as "Evan Murphy." She's never heard of Evan, but a quick search tells her that he lives in a nearby town and looks exactly like Flynn. Only this boy is very much alive.





Digging through layers of secrets and lies, Morgan is left questioning everything she thought she knew about her boyfriend, her town, and even her parents' involvement in this massive web of lies.
My rating:
★★★★★
So this little book is written by
Kim Harrington
under the pen name
K.A. Harrington
. It's a bit different than her other books in that it is a more contemporary with no supernatural components. And if you know me at all, you know I don't read contemporaries, like,
at all
. These realistic-type books are just to every-day-life for me! I need a little paranormal stuff in my life! However, because I read and loved every other of Kim's books and I just happened to be in the mood to read something specifically by her (and this was the only YA book by her that I had left to read and I actually love mysteries), I knew I
had
to read
Forget Me
! And after having read it, I will pretty much read anything by
Kim Harrington
and under any pen name! She is amazing! *
Forget Me
* is amazing!
Yes, yes it was.
As I mentioned before, I
love
mysteries, and this book just happened to have a fantastic one!
So, Morgan's boyfriend, Flynn, dies in a terrible car accident. Months later, her best friend Toni urges her to start doing things that will help her move on and help with closure. One thing Morgan did was upload a picture of Flynn to a site, one that tags him as Evan Murphy...
what
?! It turns out that a guy who looks
exactly
like her dead boyfriend lives just a town over. Morgan's mind races with all sorts of crazy thought, feeling betrayed.
Could Flynn actually still be alive? Had he been living a double life this whole time?
Morgan sets out to find the truth, but what she discovers is more than she bargained for...
I really liked Morgan and Toni--they're quite a pair! As for Flynn and Evan, the more we learned about Flynn the less I actually liked the guy. Evan, though,
loved
him! *swoon*
The whole story and mystery was SO intriguing! I was completely hooked right from the start! It kept me guessing throughout the whole book--I honestly did not put things together till the very end! I hate it when I put things together prematurely--it's just not fun! But this... it was great! The suspense, mystery, heartache, and romance... I just loved everything about it! Also, there are a couple of subplots that at the time you are reading, you don't think much of, but OH MY GODS it's all connected! Everything! It was so smartly written! I highly recommend anything by
Kim Harrington
!
Have you read this book? If so, what did you think about it? If not, what do you think? Does it sound like something you might want to read? Leave me a link to your review or comment below! :)