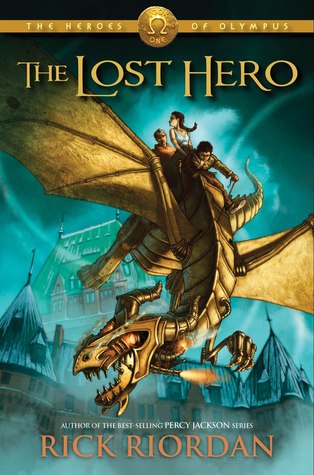 Title: The Lost Hero

Series: The Heroes of Olympus #1

Author: Rick Riordan

Publication date: Oct. 2010

Published by: Disney Hyperion

Source: Own Hardcover

Add it to your Goodreads shelf

Buy it: Amazon | Book Depository

Synopsis:

Jason has a problem. He doesn't remember anything before waking up in a bus full of kids on a field trip. Apparently he has a girlfriend named Piper and a best friend named Leo. They're all students at a boarding school for "bad kids." What did Jason do to end up here? And where is here, exactly?

Piper has a secret. Her father has been missing for three days, ever since she had that terrifying nightmare. Piper doesn't understand her dream, or why her boyfriend suddenly doesn't recognize her. When a freak storm hits, unleashing strange creatures and whisking her, Jason, and Leo away to someplace called Camp Half-Blood, she has a feeling she's going to find out.

Leo has a way with tools. When he sees his cabin at Camp Half-Blood, filled with power tools and machine parts, he feels right at home. But there's weird stuff, too—like the curse everyone keeps talking about. Weirdest of all, his bunkmates insist that each of them—including Leo—is related to a god.
My rating:
★★★★★
Warning: This review contains major spoilers...so do not click th spoiler tags if you don't want to the book to get spoiled for you! That's a big duh! lol
Oh. My. Gods. This book had me anxious from start to finish! Why? Well because Percy was missing! I was ready to tear my hair out! This was me the whole time (well, most of it anyway :P): WHERE THE HECK IS PERCY?!?! HE CANT JUST DISAPPEAR LIKE THAT! SOMEONE TELL ME WHERE HE IS!!!!
Now that that's out of my system, lets get to the
real
review :)
As you can see, Percy is in this book also…well, not really. He's only mentioned, because, once again, HE WAS MISSING! *Takes deep breath*
If you have read the Percy Jackson and the Olympians series (and I recommend you do) than you will find familiar character in The Lost Hero, like Chiron, Annabeth, and Thalia.
However, this book also introduced completely new characters: Jason, Leo, and Piper.
Jason woke up on a school field trip going to the Grand Canyon not knowing who or where he was. Total weirdness. Piper and Leo claim to be his friend, but how can this be true when he doesn't even remember? Throughout the book he gets glimpses of his memory every once in a while.
After a totally weird incident at the Grand Canyon, Annabeth and a son of Iris (cant remember his name, lol) take Jason, Leo, and Piper back to Camp-Half to find out they happen to be Demigods.
Once at Camp Half-Blood, Jason then gets a quest to save Hera, who has been imprisoned my a mysterious someone...
So with the help of Piper and Leo (and a bronze dragon Leo fixes up) Jason sets out on this quest. On the way to saving Hera, they also rescue Pipers dad, who is a famous actor, and was kidnapped as well.
AND SERIOUSLY?!?! Why must you have a cliffhanger, Rick?? Are you
trying
to give me a heart attack? How am I supposed to wait till October to find out more about Percy?!?!? *Takes deep breath*
Okay, so this book was amazing (besides that cursed cliffhanger -_-) Totally LOVED it!! Like always ;) I am soooo glad to be back in the Greek mythology world, which I completely love thanks to Rick Riordan :) And I cannot wait for The Son of Neptune (literally... I want it NOW! hehe). I am almost positively sure that we are going to find out about Percy. I mean, the book is titled
SON
of
NEPTUNE
after all, and Neptune = Roman form of Poseidon who is Percy's father. Whoooo! I am very excited for this!! :D
Have you read this book? If so, what did you think about it? If not, what do you think? Does it sound like something you might want to read? Leave me a comment! :)