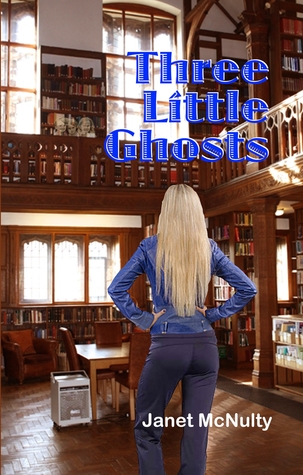 Title: Three Little Ghosts

Series: The Mellow Summers Series #4

Previous books in this series: Sugar And Spice And Not So Nice (#1) | Frogs, Snails, And A Lot Of Wails (#2) | An Apple A Day Keeps Murder Away (#3)

Author: Janet McNulty

Publication date: September 2012

Published by: Janet McNulty

Source: Owned E-book

Add it to your Goodreads shelf

Buy it: Amazon

Synopsis:



In this fourth book in the Mellow Summers Series Mel finds herself on a new mystery with the ghosts of three little girls.





While at the library investigating a ghost story for Tiny, a woman is murdered. As the investigation intensifies, Mel discovers that the victim was not so innocent after all. Embarking on one twist after another, Mel tries to find the murderer and help the three girls cross over.
My rating:
★★★★★
Tiny seeks Mel out when he sees the ghost of a little girl at the library. Mel goes to check things out when things take an unexpected turn... Mel is just minding her business, talking to three mischievous little girls, when BAM! Someone is murdered practically before her eyes! So now does she not only have the three little ghosts to take care of, but she also decides to investigate the murder of this woman. Yes, Detective Shorts told her to stay out of it, and yes, Mel decided to investigate anyway. Lol.
This one was SO cute! The little girls so adorable and so much fun, messing with Tiny and even Detective Shorts. Ha! The whole reason wy the little girls were still around really pulled at my heart strings, so I really enjoyed seeing how they would get their ending.
Full of mischievousness, mystery, and intrigue, this series is a must read if you are looking for something fun yet suspenseful! Best part is that these could be read as standalones, if you wish! But trust me when I see you do not want to miss out on the other books in this series ;)
Some of my favorite quotes:
Have you read this book? If so, what did you think about it? If not, what do you think? Does it sound like something you might want to read? Leave me a link to your review or comment below! :)