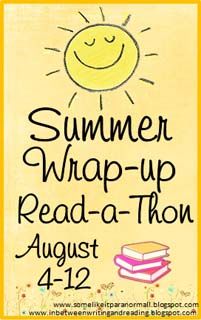 I have decided to join Jude and Jennifer (our lovely hosts) on this Summer read-a-thon. I am very excited for this because this is exactly what I needed! Because I am focusing on school right now, I have fallen behind on my reading, and this challenge is the exact thing I needed to get me back on track this summer!



The read-a-thon will take place August 4th-August 12th. It will provide some motivation to finish up all the reading you were hoping to get done over the summer. You can read whatever you want and as much or little as you want. If you can only participate during a few days of the read-a-thon that is okay too.
They're going to have challenges and giveaways, so that's a plus! For more information, and to sign up, head on over to either of the hosts blogs, here or here...You only have to visit one.
So, will you be participating in this event??