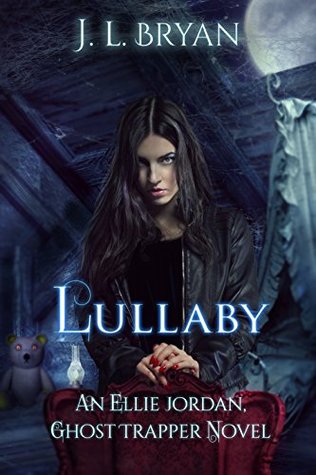 Title: Lullaby

Series: Ellie Jordan, Ghost Trapper #7

Previous books in this series: Ellie Jordan, Ghost Trapper (#1) | Cold Shadows (#2) | The Crawling Darkness (#3) | Terminal (#4) | House of Whispers #5 | Maze of Souls #6

Author: J.L. Bryan

Publication date: July 2016

Published by: J.L. Bryan

Source: For review from author

Add it to your Goodreads shelf

Buy it: Amazon | Book Depository

Synopsis:

Life is more difficult than ever at Savannah's only ghost-hunting detective agency. While Ellie copes with her mentor's departure and other unwelcome developments, she also worries about the supernatural injuries keeping her boyfriend caught in an endless slumber.

At the same time, Ellie and Stacey are called in to investigate an eerie entity haunting a baby's nursery room. The ghost appears late at night, its face barely visible on the baby monitor, and sings a chilling song.

Soon, Ellie learns there are more ghosts in the house, and at least one of them is a dangerous, child-hunting monster who must be stopped before it kills again.

My rating:
★★★★★
Lullaby
starts off immediately after the events of the previous book,
Maze of Souls
, with Michael hurt and in the hospital. This after their run-in with Anton, the pyromaniac ghost that killed Ellie's family. But not only is Ellie dealing with this awful tragedy, she is also dealing with her new bosses, Paranormal Solutions Inc. They are now moving in after Calvin sold his company to them. It's very upsetting, especially because their methods are shady as f*ck. They capture ghosts then they either experiment on them or try to tame them! Just... so much NO! What is wrong with them?! But Ellie gets it:
I definitely did not feel good about the morality of binding the spirits of the dead and using them as servants. -Ellie
Exactly! PSI are just extremely infuriating and I hate the way they go about doing things. And don't even get me started on how much I hate Kara!
"Why don't you go first?" I gestured toward the door. "Maybe there's something horrible in there that will claw your face off."
Haha yeah! Rip her face off! And while I hated Kara since we first met her a couple of books back, there was this stunt she pulled with Ellie about halfway into the book and... Oh my gods! I thought I hated her before, but now I
abhor
her! I can't stand her! She needs to
die
! I just...
She broke Ellie in the most insane, awful way possible!
She was a monster. -Ellie
But, while I hate PSI with a passion, it actually has a redeeming team member! And that is Hayden AKA Hasselhoff! He is just so funny and the bickering between him and Stacey and Ellie was amusing! He is definitely tolerable. Unlike the other PSI people...
On top of
all that
(yeah, I know), Ellie and the team have a new case, now under PSI's direction. There is a ghost haunting a baby's nursery, which is alarming for obvious reasons, but Ellie and Stacey will find that there is more to this case than they expect.
Overall, I really enjoyed this book, which should be no surprise as I've already mentioned how much I love this series! They had a very interesting case, all while dealing with their new, completely awful bosses. I cannot tell you in words how much I hate Kara... ugh! But I'm sure I've made it somewhat clear ;) I just really love these characters, and seven books into the series, how could I not? I love Ellie and how strong she is, even after
the incident
. And I of course love Stacey, as always. She is just so funny!
"Ellie, do you realize how many hours away that is? Can't you hear my stomach grumbling?"
"Nope, not from here."
"Hungry," Stacey whispered in a low growl. "Me so hungry. Me need food."
"Why does your stomach sound like Cookie Monster?"
"Me too hungry for proper grammar."
I really love the setting of these books, the paranormal aspect... I just love ghost stories in general! This is such a great series and it's getting more complex and the stakes are getting higher... I cannot recommend this series enough!
The microphones inside picked up Mackenzie's voice, followed by a recording of what sounded like Elmo from Sesame Street singing about his feelings. Either that or it was the most bizarre ghost I'd encountered yet. -Ellie
Have you read this book? If so, what did you think about it? If not, what do you think? Does it sound like something you might want to read? Leave me a link to your review or comment below! :)