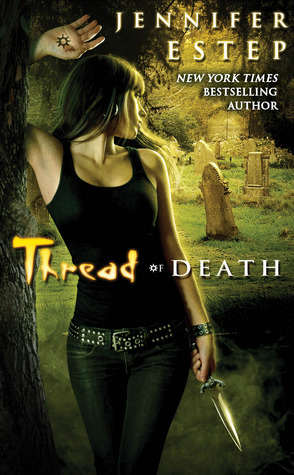 My rating:
★★★★☆
Thread of Death
takes place just after book five,
Spider's Revenge
, so there will obviously be spoilers for that book.
One thing I liked about this novella is that not only was it in Gin's POV, but it also alternated between different bad guys, Mab's former associates, if you will. It was pretty cool getting these perspectives.
Anyway, in this little novella, we have Gin attending Mab's funeral. That's right, the witch is dead!
Mab Monroe, the Fire elemental who'd been head of the Ashland underworld for years, the woman who'd murdered my mother and older sister, was finally, finally dead. And I was the one who'd made her that way.
"Hello, Gin. Good to see you out and about. Tell me, have you danced on Mab's grave yet?"
"No," I replied, smiling back at him. "But only because they haven't officially buried her yet. Trust me. It's on my to-do list."
After Mab had tormented Gin and her family for so long, Gin finally took her out! And the fight was
epic
! But we're not here to talk about that ;) Oh no.
Maybe it was morbid of me to attend the funeral of the woman I'd killed. Maybe it was impolite or in poor taste or just downright mean.
That's right. Gin goes to Mab's funeral. And while it might be a bit morbid, I totally get why she went. But unfortunately for Gin, she can't let her guard down, not even at the funeral. Gin is still recovering from her injuries, but she just can't catch a break! She is actually attacked
at
the funeral! But never fear, even as hurt as she is, Gin is still a badass assassin! I honestly cannot believe that even after all she's been through, she can still kick some serious ass!
The dwarf looked down at me, his mouth gaping, as if he couldn't believe I was still standing. Yeah, I got that reaction a lot.
That's definitely one of the things I liked about this book. It's super action-packed and super violent, even for a short story. And I thought the setting of the funeral was pretty cool. It made for an interesting fight, that's for sure. Lol.
Maybe it was fitting that I'd had to fight for my life at Mab's grave site, just like I'd been battling her these last few months.
I absolutely loved this! It was amazing! I wonder what will happen the the Underworld now, since their leader is, you know, dead. Lol. I am really looking forward to seeing where the story will take Gin next!
P.S. Cypress Mountain was mentioned! And if you don't know, this is the setting of Jennifer's other series, my favorite,
Mythos Academy
!
Have you read this book? If so, what did you think about it? If not, what do you think? Does it sound like something you might want to read? Leave me a link to your review or comment below! :)